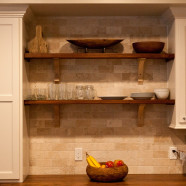 These Walnut trimmed shelves were stained by Lova Sukapura. They are made of Red Oak plywood and trimmed with walnut hardwood. The walnut hardwood was stained by Monocoat Walnut. We like the combination of Lova Sudapura and Monocoat Walnut to give the look of walnut with slight red tint…very slight!
Paint and Lova Stain from The Green Painter in Houston, TX.
Monocoat from online order.