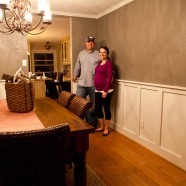 During our clients 2013 Thanksgiving vacation, the carpenters and painters with Texas Handymen & Carpenters Network completed a 6 day project to help make our client's home feel a bit more warm and dressed up.  Due to the detail of the custom frames in this wainscoting project his custom carpentry project required 6 days working 10-12 hr days with 3-5 man crew.  Wainscoting and crown molding do a beautiful job to dress up a room–especially the shaker style wainscoting in the dining room!
Our Houston home remodel clients came home to their completed project and were thrilled. Here is the video documentary on how we did the wainscoting custom build and installation. Also shown here is how we installed the crown molding in their living room, dining room (that's the room where the wainscoting was installed), main bathroom, and entry way.
Enjoy!
Jack
Jack Perry, Owner
(832) 867-1465 cell
Texas Handymen & Carpenters Network
What did we learn on this project?
Shaker style wainscoting is beautiful and looks great in a dining room!
These custom carpentry projects can take much longer to complete than one might anticipate.  This method we used was the first time we've ever done wainscoting in this style, so we had to work through some design request and carpentry decisions.

Beadboard wainscoting much less expensive to build and install compared to this craftsmen shaker style install.  Beadboard install requires just ripping the breadboard and putting a cap on top.  This style required making 16 separate frames to go on top of the panel.  This carpentry labor adds up.  Looks fantastic and is fun to build.  Just keep in mind that it will cost much more to design, build, install.

If doing wainscoting, choose your height and have the plywood ripped to meet that height.  Our finished height with the top cap (wainscoting chair rail and molding) ended up being 41 inches off the ground.  There is no fixed height for wainscoting.  Just try to get it around waist heigh level.  We've done breadboard wainscoting with a simple molding in a room at 40 inches.
Ripping plywood on site with a table saw is laborious and leaves board edges not as straight.  We had to carefully rip large plywood sheets for this wainscoting project on site.  Thankfully, the side we ripped is on the bottom and back of the board covered by paneling and molding.  Molding and paneling are your friend to hide cut imperfections that are required on site.  :o)
Use your intuition on a project.  If there is a decision made in design phase that does not feel right when building.  Stop and contact client to share with them what you feel might work better.  Yes.  This ends up costing a bit more, but does not sacrifice the beauty or aesthetics of your home remodel or wainscoting project.
We hand primed, sanded, and painted these with rollers and brushes. The paint quality is great with this method, but next time I'd like to spray these with primer then
When on a deadline, time is not on your side and you must spend money on labor to get the job done on time to avoid any interference with your client's life with messy construction and paint. This can increase the project budget, but you can get it completed and on time this way.
Working carpentry around current molding can add several hours to a project.
Corners, edges–those are the time consuming items in a custom carpentry project. Important to think through corners and edges during design phase.
Blue tape on walls really helps client to visualize project and move forward with approved custom carpentry wainscoting design and concept.
Having a nice miter saw to quickly rip hardwoods is very helpful. It allowed us to show the client a model of how the panels would look. Allowed client to tweak the size for maximum beauty and aesthetic appeal.
Important to prime wood, sand, then mount.  Final paint coat at the very end.  This ensures that you will not get dirty fingerprints on the wood during installation.  This is difficult to time with a separate paint crew, so Texas Handymen and Carpenters network has our own in-house painters that can quickly jump to paint or prime.  This can cost a bit more, but ensures that project deadlines are better followed and less back up happens waiting for  a separate paint crew to arrive at just the right time during a home remodel.
Since this client is having a baby soon, we made every effort to use low-voc paint and primer.  Green products are great, but they do increase the budget of a project.  The paint ends up stinking much less and smell dissipates pretty quickly with these low – voc paints.
Paint – Sherwin Williams
Wood Supply – Masons Mill and Lumber
poplar hardwoods –this wood works great.  not too expensive and is not difficult to cut like maple.  We've done maple before and it costs much more to cut using more and sharper blades, much more to purchase, & more labor to cut.
China birch plywood
Additional Materials – The Home Depot
Woodworking Supplies – Woodcraft – off 59 and Beltway 8 — Love this place!!  High quality products!