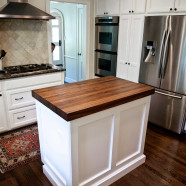 Texas Handymen & Carpenter's Network had the privilege to serve one of our favorite clients in the West University area of Houston during Summer 2014. Client requested walnut "butcher block style" aka "edge grain" counter top for her small kitchen island as well as for her living room area desk.
Texas Handymen & Carpenter's Network measured, designed, built, stained, and installed these two custom walnut wooden counter tops.
We use a very environmentally friendly, "green" stain for our Walnut Counter Tops. It leaves a beautiful matte finish with slight luster. Much improved wooden stain finish when compared with the more common petroleum/oil based stains.
Wood counter tops ad a beautiful touch to warm up your home!
Process to order your custom wood counter top is pain-free. Call or text us to come out, measure, and quote.
jack@texashandymen.com
(832) 867-1465 cell